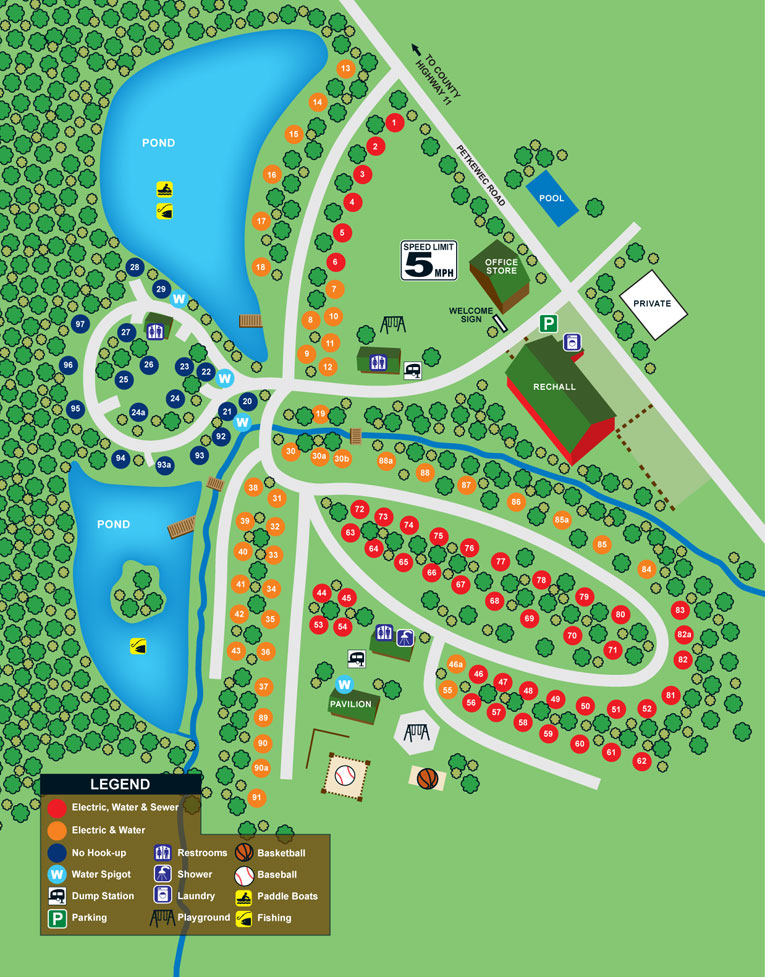 The following rules and policies have been established in order to ensure an enjoyable and safe camping experience for all campers and guests. All campers are responsible for informing their children and/or guests of these policies. Violation of these rules could mean early departure without a refund.
Speed Limit is 5 MPH throughout the entire campground. You must be a licensed driver to drive a vehicle on campground property.

Visitors Policy - All guests of registered campers & seasonals must register at the office and obtain a car pass. Guests may stay until 10 pm.

Adults (18 & over) Daily $4 / Overnight $6

Children (5-17) Daily $4 / Overnight $4

Pets are welcome as long as they are kept on a leash, quiet, and are NEVER left unattended at your site. You MUST clean up after your pet. Pets are not allowed in any building, rental RV or inside fenced in area of swimming pool.

Quiet Hours are from 10 pm to 8 am daily. All children (18 and under) must be at their site by 10 pm.

Swimming Pool is open from Memorial Day through Labor Day. Hours are posted at the pool. There is NO lifeguard on duty. Two adults must be within the fenced area of the pool for anyone to able to swim.

Bicycles All children under the age of 14 must wear a helmet. Children must have their bikes back at their site by dark.

Alcohol must be consumed on your site. Alcohol use by underage campers will not be tolerated. Violators will be asked to leave the campground.

Smoking is prohibited in all of our buildings, rental RV's and inside the fenced in area of the swimming pool.

Camp Fires must be built in the rings provided. Please do not move the fire rings.

Cutting of trees or branches on campground property is prohibited.

Fireworks and firearms are prohibited at all times.

Management has the right to terminate admission in order to protect other campers and management from unruly campers and their visitors. Campers are ultimately responsible for their actions as well as those of their children and guests. This is a privately owned campground and we reserve the right to refuse admittance for any reason. Parents, guardians or other responsible adult (grandparent, other relative, etc.) are responsible for the whereabouts, actions and safety of their children while at the campground.